To access your profile, click on your name at the top right of the interface. A drop-down menu opens.
User drop-down menu > Profile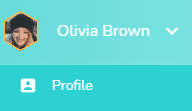 You can set up several elements of your profile, divided into several tabs (Agenda, Information, Configuration and Badges).

In the tab, to display the detail of a section, click on the arrow

 on the left. Your choices of open/closed sections are saved to allow you to keep open sections that you use frequently.
Click on a feature to view the dedicated article:
Agenda
Information
Subscription parameters
My parameters
Badges