Labels allow you to add categories to your tasks and identify them in a visual way.
Add a label
Task > Details panel: On the right, click on the "Labels" icon 
.
In the Labels panel, click on the colored rectangle corresponding to the label you want to add. You can add multiple labels.
These labels are visible to all members of the project.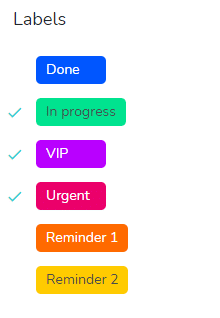 Remove a label
To remove a label, click on the corresponding colored rectangle again.
Customize or rename labels
You can add a name to the labels to reference your color code.
In the "Labels" panel, click to the right of the colored rectangle (a stylus 
 icon will appear). Enter the name of the label, then press "Enter" to validate. To modify an existing name, follow the same procedure.
These label names are valid for the project only.
Display of labels
The labels are visible in the What view as colored rectangles to the right of the task.

In the planning views (When, Who and multi-projects), the labels appear if the level of zoom allows a task frame large enough to display all the task's labels.

In the different views, labels can be used to filter 

 the display of tasks.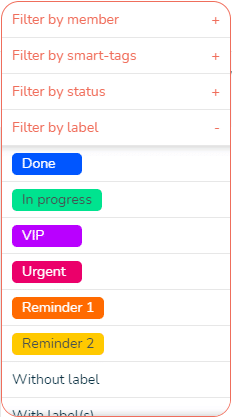 You can also display the labels caption a the top of the project. Go to the project's settings to activate it.
To learn more, visit our article dedicated to the display options of a project.