User drop-down menu > Profile > Badges:
Badges are individual rewards that allow you to visualize your progress in the knowledge of Beesbusy. The more you use the tool and its features, the more you level up in the different badges.
Badges are automatically generated by Beesbusy and appear on your screen when you move to a higher level.
The different badges you can get are: Expert, Grateful, Planner, Manager, Talkative, Well-Balanced, Entrepreneur, Rallying, Decision Maker, Good Communicator, and Active.
Under each badge, you can see what actions you need to take to get it, your level, and the number of additional actions you need to take to level up.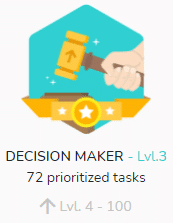 Note: Badges can also help you get to know yourself better and possibly develop your project management and organizational skills. For example, if your level is lower for badges related to communication, maybe this is a skill you can work on.
Expert badge
Once you have accumulated 10 levels (all badges), you will receive the Expert badge.
Experts are advanced users of Beesbusy. We offer them the possibility of testing certain functionalities before they are officially released.
Badges for your team members
Members > List > Member profile
By going to a member's profile, you can view the badges they have obtained.