The "+ New project" button in the left sidebar menu is used to create a new project.
By clicking on this button "+ New project", two icons appear:
A man  representing 

a personal project

.
A suitcase  representing 

a professional project

.
A professional project provides access to some features that are not present in a personal project, such as managing work schedules, adding milestones, and so on. These are useful features to manage business projects and not necessary for a personal activity.
Select the type of project you want to create before entering the project name. After entering the project name, click on the "Create" button to finalize the project creation or "Create with assistance" if you wish to get some help when creating your projects.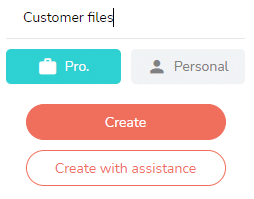 Create a project with assistance
Assisted creation helps you get started in a project while being accompanied to understand some basic features, or to create a project from a template.
For more information, visit the dedicated article: Create a project with assistance.
Note: the project creation assistant is also available at any time by clicking on the "Beesbusy" logo at the top left (or from the User menu > Home if you have personalized the redirection link).