Archiving
You can archive a project to remove it from the list of projects in the left sidebar menu, while keeping a backup.
There are different ways to archive a project:
Menu bar on the left > Project name >

 Click on the 3 small dots  to the right of the name. A new menu opens: click on "Archive" and then "Confirm".
Project > "Settings" icon at the top right of the project window (below the user drop-down menu). You access the project settings. Go to the "Project" section.  Click on "Archive Project" and then confirm.

Note 1: The project will no longer be visible in your left sidebar menu. This will apply to all members assigned to this project. They will receive a notification to inform them of this archiving.
Note 2: You can archive as many projects as you want.
Note 3: Some projects cannot be archived by you if you are not the creator and don't have the relevant access rights. You can always leave the project if necessary.
Access archived projects/Unarchive
User drop-down menu > Archived projects: You will access the list of your archived projects and you can "Unarchive" a project to make it accessible again in your left sidebar menu.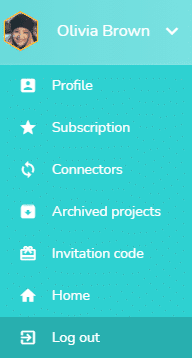 The project will also become available again for members who share it (they will be notified).