To synchronize your tasks, go to your Profile, and click on the Agenda tab: you will access your agenda for the current month, gathering the tasks you are assigned to. 
 
You have two synchronization options at the bottom of this page: synchronize with Google Calendar or synchronize with Outlook Calendar (Office 365):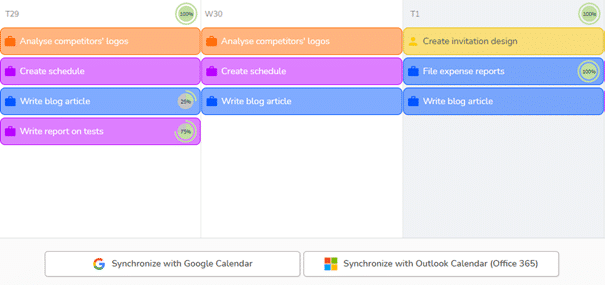 When this is your first synchronization, Beesbusy must log in to your Google or Microsoft account. An authorization request message for Beesbusy to access to your Microsoft or Google account appears, and you must give consent. 
 
All tasks on your Beesbusy agenda are then visible in your Google agenda or Outlook calendar. Two agendas have appeared: "Beesbusy tasks", which displays the tasks assigned to you, and "Beesbusy timelogs", which displays your planned forecast workload. 
You can cancel the synchronization of your Beesbusy calendar with Google Calendar or Outlook Calendar at any time by clicking on the cancel synchronization button at the bottom of the "Agenda" page.