Is customization really important?
Being able to customize your interface can have several benefits.
Pleasant design
Aesthetics may not seem like a priority but it should not be overlooked. When you use a tool very regularly, the experience must remain enjoyable every single time.
In addition, in the case of a tool like Beesbusy, project management must not take on a boring aspect. A pleasant design also allows better adhesion of the teams when setting up a new tool at work.
Individual needs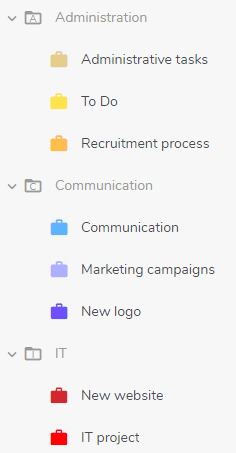 Customization also allows you to adapt the interface to individual needs, as well as feelings and emotions. For instance, bright colors can convey dynamism while pastel colors will give a more soothing impression. With an almost infinite choice of colors, it becomes easy to harmonize your interface.
Being able to choose the colors of their projects also allows each user to work according to their own color code and to save time by relying on a visual organization.
It is possible, for example, to group projects in a color scheme by theme or to associate a color code by degree of urgency.
Team spirit
From a collaborative work perspective, it is also important to promote group cohesion. An interface with corporate or team colors can incite this feeling of belonging.
Customize Beesbusy
An interface with your colors
You can choose to customize the header located at the top of your interface. To do this, go to your profile. You can select your color, its appearance (gradient or solid) and add your logo.
You can also choose the page to which you want to direct a click on your logo.
If you have taken out a subscription for several people, these modifications will also apply to their own interface.
Choose the colors of your projects
To change the color of your project, go to the project's settings and in the "My color" section.
By default, you can choose from 10 colors. With the customization option, you can add new, completely customizable colors. To do this, click on the "+": a color selection window appears. You can make your choice using the selection tool or by directly typing the color code.
Once the new color is created, it will be added to your color list and available for all your projects. The customization option is available for users who have subscribed to the Enterprise plan.
When you share a project with other users, the color you have chosen is then displayed by default for these people (custom color or not).
You can change the color of a shared project. In this case, this change will only be visible to you, which allows you to be able to organize yourself as you wish, based on your existing projects or a color code of your own.
In the case of a custom color, if you change the initial color of a shared project and you do not benefit from the Enterprise plan, you will no longer have access to this color thereafter.
Interface customization and custom project colors are available in the Enterprise plan.
Click below to view our offers: